I am an Agile coach, a Scrum educator, a Project Management instructor, a Certified Technical and Professional Consultant, and an Entrepreneur with over 25 years of experience in technical product delivery, Information Technology, web systems, mobile, and Internet-related applications with a unique background combining Agile teams building, solutions architect, product delivery, business and client support services. I have helped and trained corporate leaders, department managers, and enterprise teams to build a "high-value and customer-centric organization"!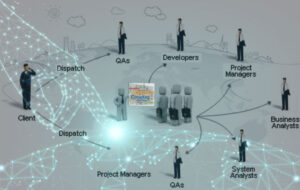 I have hands-on experience in building teams to deliver complex and multi-tiered software systems such as:
Software as a Service (SaaS);
Platform as a Service (PaaS);
e-Commerce;
Customer Relationship Management System (over 10 CRM projects since 2003);
Enterprise Resource Planning System (3 integrated ERPS systems since 2008);
Human Resources Information System (first HRIS developed in 1999);
Web solutions (over 400 websites and web-apps);
Integrated e-Solution applications (led development of an integrated CRMS-ERPS-HRIS and invoicing system);
Technical and Business portfolio management (over 4,000 hrs of documented project management);
Brand/e-Marketing campaigns (over 20 projects since 2008);
Online sales lead generation (400% ROI since 2006);
Clients management;
Business development.
I am also a:
Agile Community Builder/Activist
Lead in the creation of an Agile community – Agile & Scaled Value Project Management.
Consultant Association
Member of PATCA Board of Directors, coaching teams of cross-functional professionals to deliver products using Scrum@Scale and SAFe frameworks.
Agile/PM Instructor
Instructor of Project and Program Management certification courses (such as Agile Product Lifecycle Management, Managing International Projects, Fundamentals of Disciplined Agile Delivery) at UCSC, MS courses at Northeastern University, and public classes in Agile frameworks as well as project/product management courses.
Certified Scrum Leader (CSP, CSM, CSPO), and Certified Scrum Educator.
Custom Trainer
Hands-on workshops in leadership training, Agile startups, enterprise team building, Agile/Hybrid change managemnt, IT/web application development, CRMS, SaaS, PaaS, CMS, etc.
Contact us for your FREE initial consultation!